Know more about Cable Gland Chart Size for better choice!
Many people get confused with the chart sizes and the proper selection for the cable gland. So to make it more understandable and easy, we have provided you with the Cable gland chart size for better understanding. Here in this blog, we have tried to solve your all doubt about making a decision regarding cable gland chart size.
What is a cable gland?
A Cable Gland is described as a mechanical cable entry module. Usually, they are used to secure the electrical cables which are used in the long-lasting connections, unlike household plugins that are disconnected quickly. Most industries make use of electrical equipment to a certain extent by using cable glands. Cable glands are available in different types and sizes and are accordingly used in different conditions and applications.
Usage of cable gland:
Mostly the cable gland is used for two purposes: Connection Protection and Strain Relief. Connection Protection: With the help of cable glands it makes sure that the outside dust particles do not get accumulated on the electrical equipment. The outer cable sheath is protected by the cable gland protecting the wiring and electrical enclosure from environmental hazards such as dust, moisture, etc.
Strain Relief:
During the installation process, the cord grip secures the cable at a fixed angle. Due to this, the connection supplies strain relief and powerful opposition so as to prevent disconnection.

A Cable Gland is made up of various brass, steel, plastics or aluminum material which is then used for glanding in many industries such as electrical power, control, data and telecommunication, instrumentation, etc. for electrical purposes. For proper usage of cable gland one must know cable gland chart size.

So before you choose any cable gland, you need to first identify the conditions of the terminating end. Also, it is better to watch out for their standard ratings and protections for the right connection to establish. This is only viable when you are able to determine the suitable cable gland chart size as per your requirement.

Let us know the steps involved in choosing the right cable gland chart size for your equipment. In the beginning you should verify your cable gland.
Cable Gland Validation:
1) Determine the type of cable, its design, and its material characteristics. Basically to know whether it is armored or not, single or multiple strands, etc.
Identify the following if the cable is armored:
Specify the cable armor's type, dimensions, and composition.


Inspect the cable armor's short circuit fault current rating.


Calculate the inner bedding's diameter.


The diameter of the lead covering should be measured.


Verify the overall cable diameter's precise dimensions.


Identify the environmental conditions and requirements, such as safeguards against the intrusion of water, dust, or gas.


To avoid using joints made of different metals when using metal cable glands, take into account the material of the mating electrical equipment.


Take into account whether the cable gland needs any protective plating.


Determine the kind and dimensions of the cable entry hole on the corresponding electrical apparatus.


Verify the site standards or the electrical equipment's ingress protection rating.


Verify the type of cable gland needed for the application (single/double seal, material, etc.).


Confirm that IP66 (or IP67/IP68) conditions call for the use of an entry thread seal.


List the additional fixing components, such as locknuts, earth tags, shrouds, etc., that are necessary.


Now that you are able to figure out all these steps, it will be easy for you to identify the correct cable gland and accessories needed for a useful connection. It becomes easy for you to proceed to the next step in knowing how to select a gland from the cable glands chart size.
How to select gland from the Cable Glands Size Chart: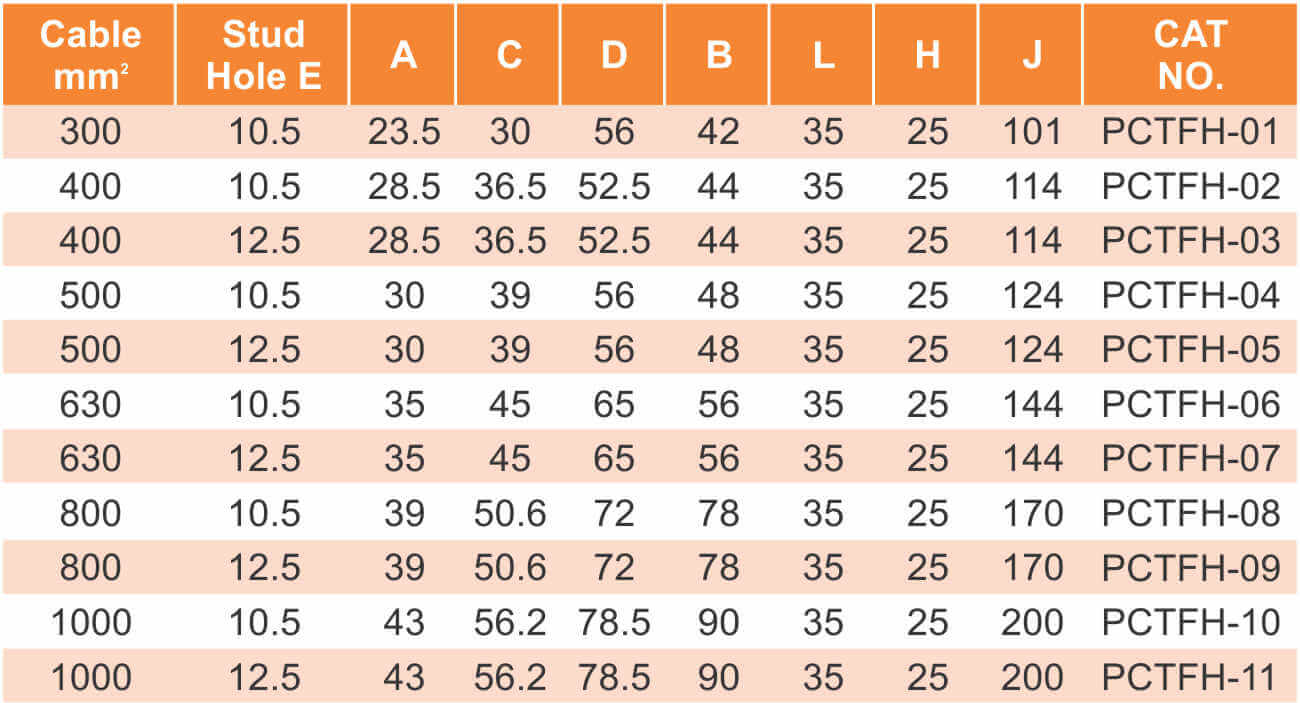 ---
Now let us check out how to select a cable gland from the cable glands size chart. As shown in the image, we have a size chart for standard cable glands. The nominal cable gland size is determined by the cable's overall diameter, armour diameter, and cable over sheath thickness.
In the table you will see the cable glands size chart.


The values in the rows represent the cross-sectional area (mm2) of the cable, and those in the columns represent the number of cable cores.


Choose your cable size from the values in the rows.


After that, count the number of cores in the cable using the columns that list them.


The corresponding cell or box that matches the two aforementioned values displays the cable gland size that is suitable for the cable.


For instance, we determine that the appropriate cable gland size is 25 for a 16mm² cable with 4 cores, similarly for a 95mm² cable with 3 cores the perfect cable gland size would be 40. The cable gland can accommodate a variety of cable diameters, and the choice of a specific type of cable gland is made using the provided datasheet or catalog.
For more details a cable gland chart size is given below:-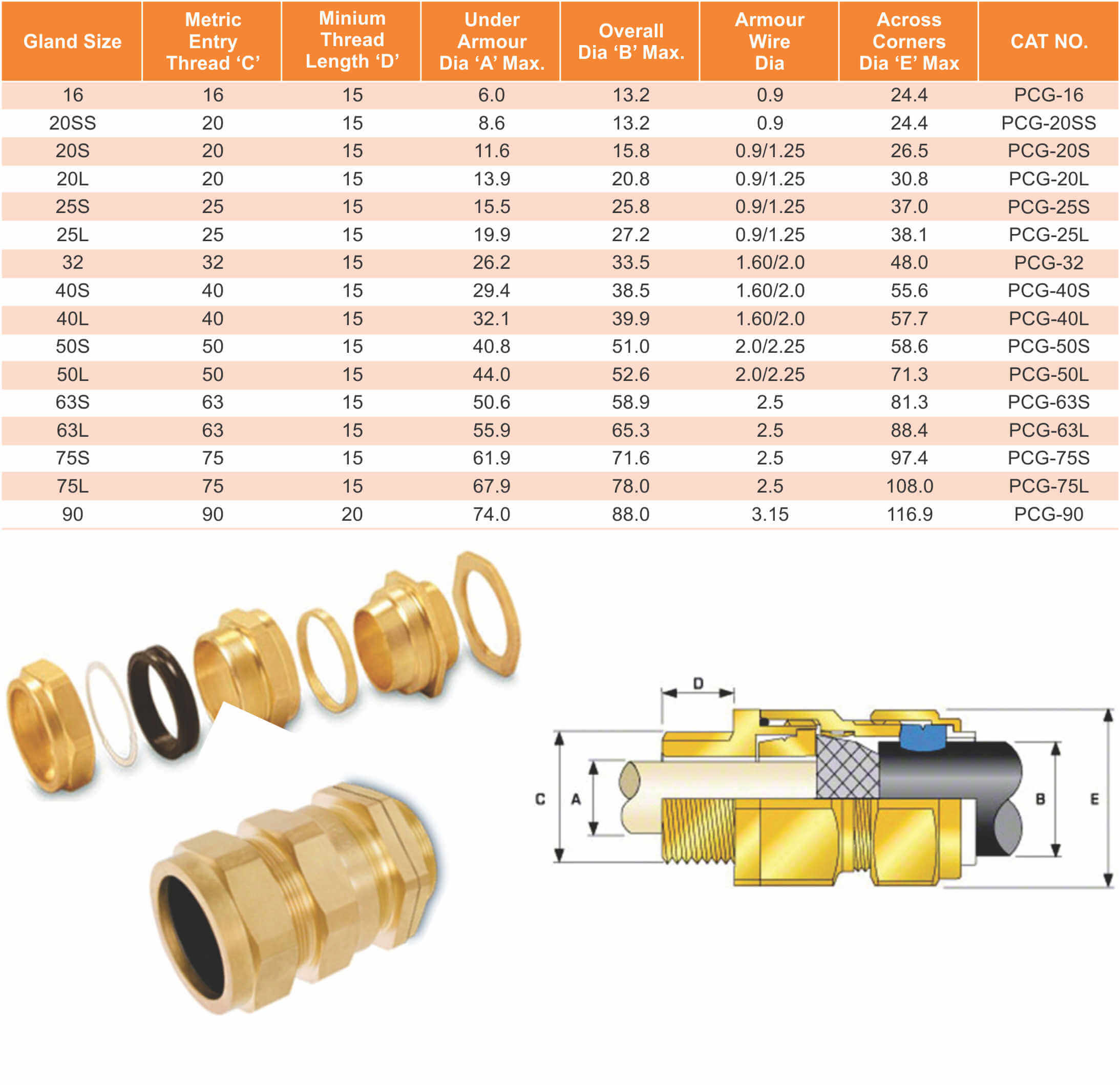 Subsequently, you need to know what type of cable you might use armoured or unarmoured. Depending on that check the size and material of the required cable mentioned in its description. Finally, don't miss out on identifying the overall diameter of the cable (A or B) which will be specified in the product table.

A cable gland chart size will help you to find the best suitable gland for your instrument. But then what about the gland accessories? At times certain people don't give accessories that come along with them.


Installation and Maintenance of Cable Glands through Cable Gland Chart Size
Now that you are aware of the cable gland validation and how to select cable size and gland size chart. Let us know how to install the cable gland through an aluminium armoured cable gland size chart.

During the installation of cable gland size charts in mm do not forget to collect all the accessories beforehand so that while performing installation you will be equipped with all the necessary tools and equipment requirements on site. It is better to do a safe installation so that no damage is caused to the instruments.

For carrying out the installation process of any cable gland make sure you comprehend the cable gland chart size. Further, you may require the following tool kit, please reach out to us if you have any queries related to this.
PPE-

Make sure you wear PPE while handling and terminating cables so that you don't face any personal damage.



Digital Measuring Device-

It helps to determine the size of the cable gland so that it could be recorded for verification of each cable end.



Dedicated Spanners-

Used for installing cable glands as it makes the work easy.



Electrical Scissors-

They are useful for removing extra cable braids. Make sure they are sharp enough so that the cable gets removed in the first go itself so that you don't struggle to untangle them.


Other than them, you must carry an armour-forming tool, hacksaw, outer seal tightening guide, as well as a safety knife. Now that you have all the necessary tools and equipment with you let us start the installation process.

1. When installing and managing cable glands utmost care should be taken to bypass harm to entry threads. Only after looking at the cable gland chart size make sure you follow the process accordingly.




2. Switch off the circuits while you are working with cable glands. It may cause damage to the instrument as well as the technician risking his life in danger. So it is favourable to dismantle cable glands only when electricity is stopped.




3. Make sure while buying components of cable glands you don't mix up the components by buying from multiple stores. As it becomes risky to carry out the task with different manufacturers because you will be unable to be held accountable if the product is unsafe or damaged by any chance.




4. At first, you detach the nut while you open the cable gland referring to the cable gland chart size. It is the common step that every one of you needs to do. Then, according to the size of the gland make sure you peel the outer sheath to that same length using an appropriate tool. In case, the inner sheath is exposed it doesn't matter. It will cause no harm.




5. Lastly, make sure you lay the cable equally around the gland while you do the next step which is inserting the right end of the gland into the cable. When the fixation is completed make sure you use a spanner or tool to fix this by placing the nut back in the position.


Similarly, you can install cable glands by using looking at any cable gland size chart for example-, flexible cable gland size chart, armoured cable gland size chart etc



At Pioneer Power we provide you not just different types of brass cable glands but also accessories that you must carry alongside while buying cable glands such as earth tags, locknuts, PVC shrouds and PVC-covered copper or aluminum tape/strips.



It is necessary for the safe installation process. We also provide brass glands with a kit where you will be given the whole equipment required for cable glanding. It's critical that our accessories are specified and installed correctly because they have a significant impact on overall performance and installation safety.

We give you the best services with quality certifications at a very reasonable price so that no discomfort is caused to any of our clients. We are the leading and trustworthy suppliers with our strong prominence in the international market too. Do visit our site PioneerPowers.com and buy the best products.


People Also Ask (FAQs):

How to choose cable gland size?

Only these few steps are to be taken care of while choosing cable gland size chart i.e check what type of cable you want according to that see what is your size requirement and then finally you can find the best fit cable gland.



How to calculate gland size for cable?

Identify what type of cable you might use armoured or unarmoured. Depending on that check the size and material of the required cable mentioned in its description. Finally, don't miss out on identifying the overall diameter of the cable (A or B) which will be specified in the product table. Just as mentioned in the example given above.



How many types of cable glands are there?

There are four types of cable glands. We provide A1/A2 Industrial cable gland, CW Industrial cable gland, BW Industrial cable gland also Single and Double compression cable glands.



What is a cable gland chart size, and why is it important?

Cable gland chart size is a table chart that helps to understand the dimensions of the overall cable gland. It is important because by referring to the cable gland chart size you can easily know the diameter and thickness of the cable gland and buy accordingly.



How do I choose the right cable gland size for my application?

You simply have to refer to the cable gland chart size for instance if your cable gland is of polycab then make sure you refer to the polycab cable gland size chart. Similarly, based on the types of cable glands refer to cable gland chart size.



What are some common materials used in cable glands?

In cable glands accessories like earth tags, locknuts, PVC shrouds and PVC-covered copper or aluminum tape/strips can be used while installing.



What is the difference between a cable gland and a cable connector?

Only technical distinction is made in terminology as cable gland is often referred as cable connector, both functions the same.



What are some key considerations when installing a cable gland?

Make sure you don't lose the fittings while installing as people tend to miss that thing and forget to recheck it.



How do I maintain and inspect my cable glands?

Once the installation process is finished you can have an inspection when you think there is any electrical damage done. Make sure you inspect sealing performance, armour clamping, and reliable earth continuity.